Start Your Real Estate Agent Career
The real estate profession offers many career choices in the business world today. Helping people buy and sell homes, office buildings, industrial property, farmland, property management, land development, urban planning, real estate counseling, appraisal and research are all options for an agent in real estate sales.
Selling real estate requires a license that is issued by your state department of real estate or commerce. Licensing requirements vary from state to state, but all require prospective salespeople to pass a written exam. States also vary on the required number of hours of pre-licensing education.
A career in real estate provides flexibility and freedom to set your own pace. Income is directly related to your efforts, with no limits on what dedicated, hard-working agents can earn. Successful people in real estate are goal-oriented, persevering, self-motivated, ambitious and people-oriented, and love the challenge of working in a "commission-only" environment.
The real estate agent's expertise facilitates the transaction, saving clients time, trouble and money. Real estate professionals need to have a thorough knowledge of real estate law, local economics, fair housing laws, types of financing, mortgages and government programs.
Once you are licensed, you must affiliate with a Company that has a solid foundation of sales training. The successful REALTY WORLD agents are graduates of the REALTY WORLD ACADEMY, with a strong emphasis in business development and customer service.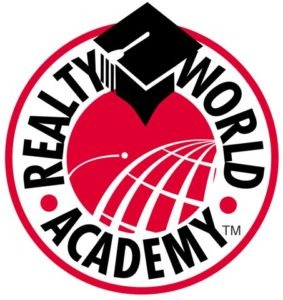 Contact your local public library for university and real estate college course information and directories.
FOR MORE INFORMATION ON A CAREER AS A REALTY WORLD AGENT, CLICK HERE.